Violent Hippie™ Handmade Soap
Regular price
Sale price
$14.00 USD
Unit price
per
Sale
Sold out
 *DOES NOT CONTAIN ANY CBD*
Violent Hippie Handmade Body Soap
by Forn Bath & Beauty 
This Violent Hippie handmade soap bar will leave you feeling so clean and refreshed! Scented with delightfully tropical aromas of Pineapple, Papaya, Hibiscus, Plumeria, Tea Tree & Cedarwood.  Essential oils of Tea Tree and Cedarwood are known for their excellent Antibacterial, Antimicrobial, and Anti-fungal properties- they tend to be some of the stronger cleansing oils making this bar a perfect choice for scrubbing down after contact sports like Jiu-Jitsu or wrestling, post-gym, or any day, and may be helpful with healing and reducing skin breakouts! Naturally cleansing without stripping away that vital moisture barrier.  Creates a gentle creamy lather, leaving your skin feeling quenched and refreshed.
Naturally Antibacterial/ Antimicrobial/ Anti-fungal.
Safe, clean, paraben and phthalate-free ingredients!
Product packaging is Earth-friendly and biodegradable.
Each bar's design and colors may differ as these are all made by hand.
All base oils used are Organic, and as ethically sourced as possible. Only RSPO Certified – sustainably sourced Palm Oil and Raw, Fair-Trade Butters are used in this soap.
To prolong the life of your bar soap, please keep it on a dry surface or soap dish to allow the soap to dry fully when not in use.
5 oz bar (142g)
Vegan-Friendly
Ingredients: Organic Olive Oil, Non-GMO Rice Bran Oil, Water, Organic Coconut Oil, RSPO Certified Palm Oil, Sodium Hydroxide, Organic Castor Oil, Organic Raw Cocoa Butter, Organic Raw Mango Butter, Fragrance Oil, 100% Pure Organic Essential oils of Tea Tree & Cedarwood, Glycerin, Iron Oxide (Pigment), Mica.
† These Statements have not been evaluated by the Food and Drug Administration. This product is not intended to diagnose, treat, cure or prevent disease.
Share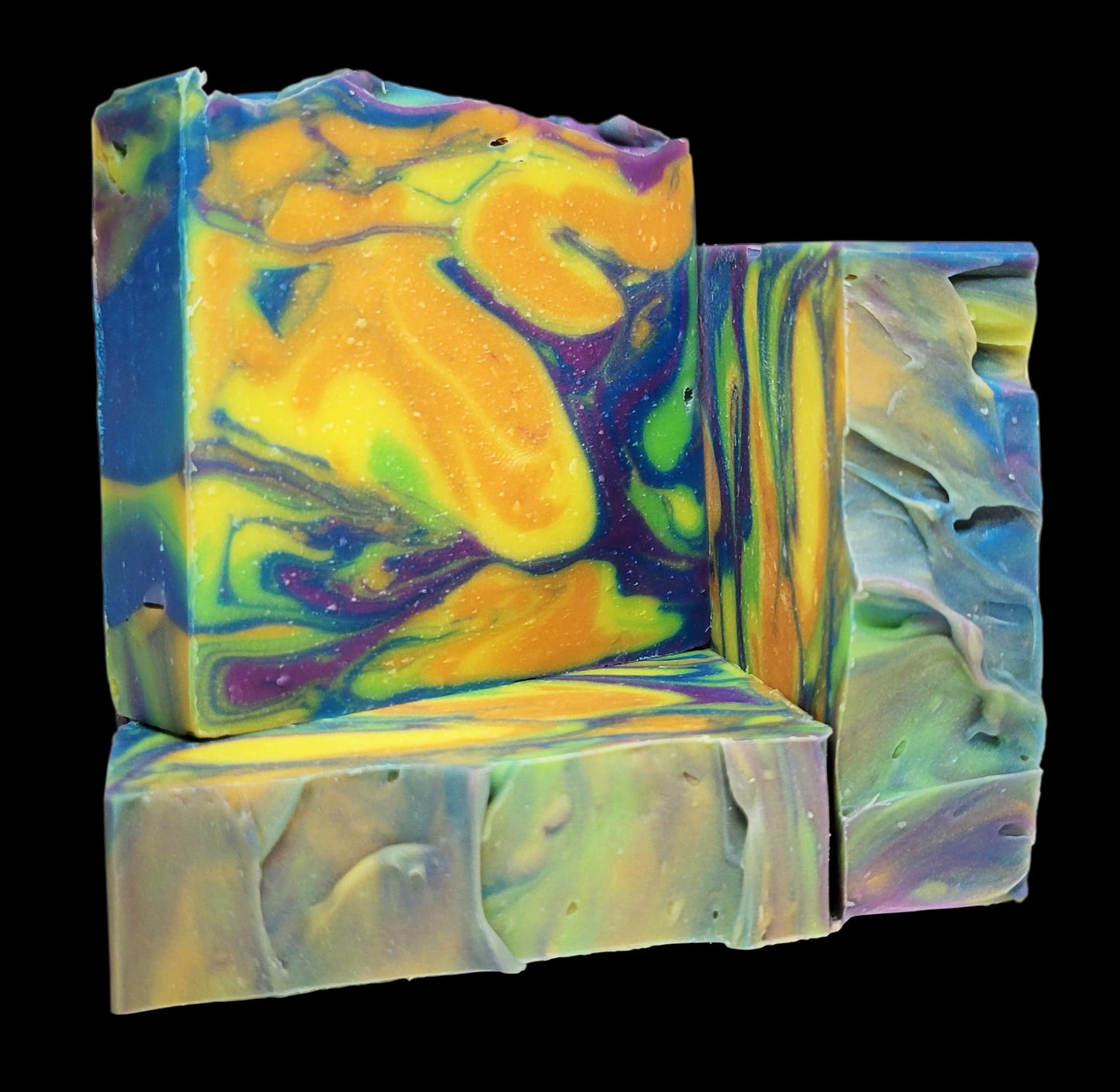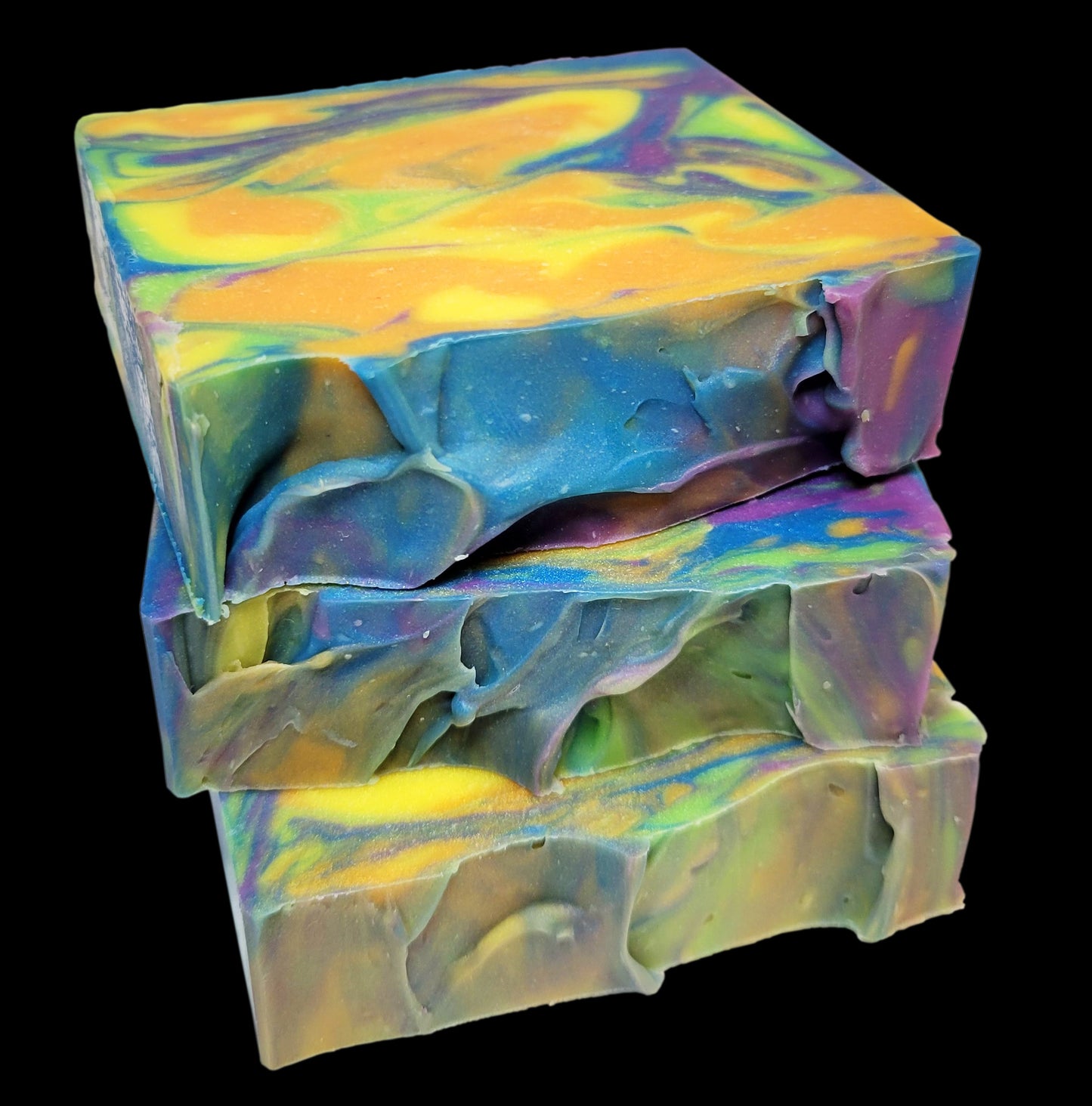 Soap
This soap is amazing I like that it is anti-bacterial but also makes you smell like a winner
Violent hippie Soap
The soap smells really good! Doesn't leave my skin feeling dry or itchy like other soaps. Will be buying again.
great soap
really enjoy this soap, pleasant smell, and I actually feel clean after training.
Great Product! Looks cool!
I have bought a few different products and I like them all.
Quality product amd nice to support small business!
Thanks
New Favorite Soap
Smells amazing, really smooth skin after using it, small batch organic hand made soap! cant beat it. Super pleased. many big brand soaps dry out my skin but this violent hippy soap leaves my skin smooth and silky.